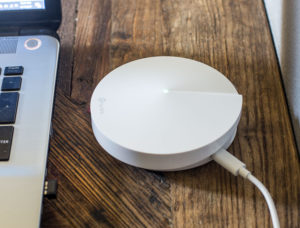 The modern home has an ever growing number of connected devices…which means that a reliable internet connection is essential.
One of the latest solutions to ensure continuous wifi coverage throughout your home is the Deco M5 Whole-Home Wi-Fi system from TP-Link.
Using the simple setup App, users can easily find the best spots to place each Deco wi-fi unit , ensuring the best coverage across all areas of the home…so no more wifi dead zones.
Key Features 
•    Seamless wireless connectivity throughout every room in the home
•    Comprehensive security features and robust parental controls via TP-Link HomeCare
•    Antivirus and malware protection powered by Trend Micro*
•    Simple installation with guided visuals via the TP-Link Deco mobile app (iOS and Android)
•    Adaptive Routing Technology (ART) selects the best path for device connections and keeps the network running as fast as possible
•    QoS prioritises your home's Wi-Fi experience by optimizing bandwidth to devices as needed
•    Remote management and control of the network from anywhere
•    3-year limited warranty and 24/7 unlimited technical support by phone or email
Pricing & Availability
Manufacturer: TP-Link Australia Pty Ltd
Product: TP-Link Deco M5 Whole Home Wi-Fi System
RRP: AUD $399 (3pk), $179 (Single Unit)
Stocklists: Officeworks
Website: www.tp-link.com.au