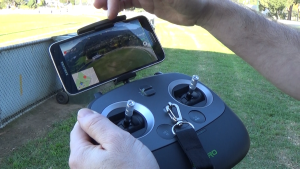 While Australia post is toying with the idea of making package deliveries via flying drones, I've been playing with another sub $1000 drone (shop around) that you'll find in stores.
The Xiro Xlplorer Vision drone isn't the type you'd fly around the house for fun.  It's flying weight is just under 1.3 kilograms and comes complete with a wide angle HD Camera that's stabilized to produce great quality 14 megapixal photos and 1080p HD video.
This drone has a standalone controller with a built in holder for your smartphone that can stream live video though i would suggest watching the drone with your own eyes when you hit the max speed of 8 meters a second.
Some extra features that I really like on the Xiro Xplorer V
'Follow' mode – The drone will follow wherever the controller is or can circle it.   On iOS you can also select an object to follow on your phone screen.
The 3-axis stabalized gymbal – essential for recording smooth video.
Live review from the drone's camera via a dedicated wi-fi connection to your phone.
The Xiro Xplorer drone comes in 3 versions.    A standard version with no camera or gymbal, the "V" that comes with the camera and gimbal plus a "G" version that comes with a gimbal mount that supports GoPro cameras.