Today (March 31) is World Backup Day. While it's not something you should only think about once a year, once you put a backup plan in place you shouldn't have to think about it too often at all.
World backup day aims to educate people around the world about the increasing role of data in our lives and the importance of regular protection and the latest stats from Acronis demonstate that there are plenty of us here in Australia need some education in this area.
What data backup looks like in Australia at the moment;
·        Data loss: 33% of Australians suffered from data loss at some point.
·        Backing up data: 30% of the respondents don't backup their data at all. This means that 30 percent of consumers store their data only on their computer – or not at all.
·        How we backup: Only 31% backup the data in the cloud. The majority – 41% of respondents use external drives to back their data up.
·        The significance of data: 47% of Australians are in fear to lose their photos and videos, 29% are concerned about their work-related documents, however, 30% of the respondents claimed            they don't backup their data at all.
·        When do we backup: The majority of respondents – 62% – claimed they backup at night.
·        What do we value in backup: 32% of respondents expect their product to deliver security, adequate storage capacity and to be easy to use.
·        Storage: 48% of Australians ran out of storage space at some point in life and 45% claimed it happens to them once a year.
How easy is it to backup your data?
Very easy.   All you need is the right tools and you can almost 'set and forget' it.
Tech Daily has been using Acronis True Image for the past 12 months for data backup across a notebook and desktop PC but you don't need to be an expert to use this software.
How to get started with backing up your files;
Buy a backup software solution such as Acronis True Image along with a seperate external hard drive (or two) that will hold all of the files on your devices.  You can then choose to use a combination of local hard drive backup along with Cloud backup to secure your data.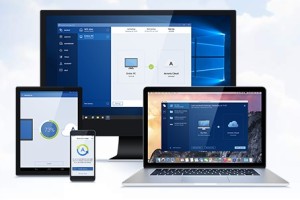 Key Features of Acronis True Image:
Unlimited Cloud and Local Backup and Restore of your Entire Computer: backs up everything including your operating system, applications and all your data either securely in the cloud or locally to enable a complete system restore or easy migration to new hardware.
Mobile Device Backup: backup and recover all your pictures, videos, contacts, events from Android devices, iPhones, iPads, and Windows tablets.
Online Dashboard: manage multiple computers and mobile devices via a central dashboard. Great for family or small office backup management.
Get more information at www.acronis.com.au.
Enter to WIN a copy of Acronis True Image 2016 HERE