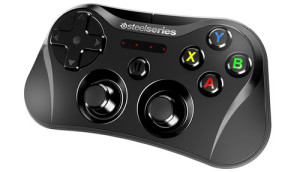 Console style gaming on your iPhone or iPad. It it possible?  Well not if you're happy to sit there flicking away at the screen.
SteelSeries has just released the first wireless gamepad controller designed to bring the type of control you're used to on console systems to your Apple mobile device.
Apple's latest update, iOS 7, features built-in conroller support which now means developers can start to create the types of games that until now weren't suitable for play on your iPhone or iPad.
SteelSeries new Stratus Controller connects via Bluetooth and boasts more than 10 hours of battery-life (hopefully about the same or even more than your device).  You can see from the photo here that it looks very much like the layout of  and XBox controller, but not quite as curvy,  with duel analog sticks, 4 pressure sensitive shoulder buttons and 4 pressure sensitive action buttons.
So what about games?  Well there are already some available on the App Store that support game controllers and we're likely to see more now that the actual controllers are hitting the market.
Stratus Controller from SteelSeries RRP $129
Available now for pre-order on SteelSeries.com