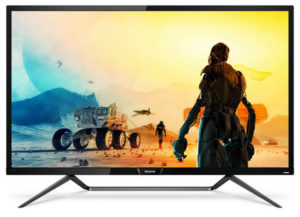 Not all computer monitors are created equal.  This becomes quite apparent when you take a look at the Philips Momentum 4K HDR display.
Last week Tech Daily caught up with Eric Kab from Philips Australia to talk about this very BIG, high resolution display – listen below then scroll down for more details on how you can win one!
Here are some of the other highlights of the new Momentum Display
• Quantum Dot: Market-leading Quantum Dot Technology is an innovative semiconductor nanocrystal technology that precisely emits light to produce a more dynamic range of colors that produce a truer natural palette.
• 4K Resolution: At a stunning 3840×2160 pixels, images are displayed with more detail and clarity than typical monitors.
• MultiView: Work with multiple inputs (like PC, notebook or TV/media devices) simultaneously on the same screen with active dual connect.
• Gaming Features: For gaming enthusiasts, this display comes with Adaptive-Sync to eliminate screen tearing and Low Input Lag to ensure smooth responsiveness to retain your competitive edge.
• DTS Sound™: Enjoy an immersive virtual surround sound experience, complete with rich bass, dialog enhancement and maximized volume levels free of clipping or distortion.
• Flicker-Free Technology: smooth brightness control reduces eye strain and makes the screen more comfortable to view.
• Connectivity: USB-C, HDMI 2.0 and DisplayPort allow the display to connect to most video and audio sources like gaming consoles, OTT boxes, DVD players, video cameras, etc.
• Ambiglow: Enjoy a superior multimedia experience with Ambiglow, which enlarges the apparent screen size by projecting a halo of light onto the surrounding wall with real-time color and brightness adaptation. Tailor your experience with user friendly options that allow you to adjust the ambiance to suit your viewing preference.
Summary
Philips Momentum 436M6VBPAB
Screen Size: 42.51″
Resolution: 4K (3840 x 2160) HDR1000
RRP: From $1399 (incl. GST)
How here's your chance to win this amazing display.
Simply fill in your contact details and upload a photo of you with your current computer monitor.   We'll choose the most creative/entertaining entry as the winner of a brand new Philip Momentum display as described above.
[wordpress_file_upload uploadid="2″ placements="userdata/title/filename+selectbutton+uploadbutton/subfolders/message" uploadtitle="Upload your photo" selectbutton="Select Photo" uploadbutton="Upload Photo" requiredlabel="" notify="true" notifyrecipients="andywells@techdaily.com.au" attachfile="true" widths="userdata_label:100″ userdata="true" userdatalabel="Your Name|t:text|s:left|r:1|a:0|p:inline|d:/Email address|t:email|s:left|r:1|a:0|v:1|p:right|d:|g:0/Phone Number|t:number|s:left|r:1|a:0|v:0|h:0|p:right|d:|f:d"]
Terms and Conditions

Tech Daily in partnership with Philips Australia is giving away 1 (one) Momentum 436M6VBPAB display with a recommended retail price of $1399 (inc GST).   Entry is open to residents of Australia age 18+.  Entry is restricted to one entry per household.  Employees of Philips Australia and Radio stations that broadcast Tech Daily (and their immediate families) are not eligible to enter.   All entries must be complete and contain an original photo to be considered for the prize.   The winner will be selected based on creativity / entertainment value by Tech Daily & Philips Australia. Winner will be notified by telephone and/or email on the 10/9/18.
Entry period is from Monday August 27 to 5pm Friday September 7 (AEST).