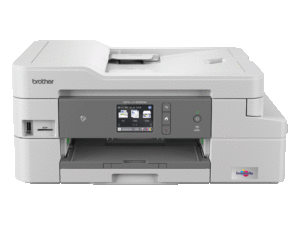 A Printer that comes with up to a year of ink in the box!  That's what you get with the new INKvestment tank printers just released by Brother.
Last week Tech Daily caught up with Paul Saussey, General Manager Sales (Retail) at Brother Australia.
Listen below to hear Paul talk about the latest printing innovations.
Now you can enter to win 1 of 2 Brother printers featuring the new INKvestment tank technology (Model MFC-J1300DW)
•Up to 1 year of ink supplied in-box
•Print, copy, scan, fax
•Print up to 12PPM
•Wireless, Ethernet & USB connectivity
•150-sheet adjustable paper tray capacity
•20 sheet Automatic Document Feeder (ADF)
•NFC "touch to connect" print & scan
•Mobile device printing and scanning
•6.8cm colour touchscreen
•Automatic 2-sided (duplex) printing
•Replacement INKvestment Tank Cartridge: LC3333
How here's your chance to win one of these amazing new printers for your home or small business.
Simply fill in your contact details and upload a photo of you with your current printer (Yes a selfie with your printer).    We'll choose the most creative/entertaining entry as the winner of a Brother MFC-J1300DW Inkjet printer.
[wordpress_file_upload fitmode="responsive" placements="userdata/title/filename+selectbutton+uploadbutton/subfolders/message" uploadtitle="Upload your Photo" selectbutton="Select Photo" uploadbutton="Upload Photo" notify="true" notifyrecipients="andywells@techdaily.com.au" attachfile="true" widths="plugin:400″ userdata="true" userdatalabel="Name|t:text|s:left|r:1|a:0|p:inline|d:/Email |t:email|s:left|r:1|a:0|v:1|p:right|d:|g:0/Phone |t:number|s:left|r:1|a:0|v:1|h:0|p:right|d:|f:d"]
Terms and Conditions

Tech Daily in partnership with Brother Australia is giving away 2 (two) MFC-J1300DW Inkjet printers with a recommended retail price of $329 (inc GST).   Entry is open to residents of Australia age 18+.  Entry is restricted to one entry per household or business.  Employees of Brother Australia and Radio stations that broadcast Tech Daily (and their immediate families) are not eligible to enter.   All entries must be complete and contain an original photo to be considered for the prize.   The winner will be selected based on creativity / entertainment value by Tech Daily. Winner will be notified by telephone and/or email on the 24/11/18.
Entry period is from Friday November 2 to 5pm Friday November 23 (AEST).