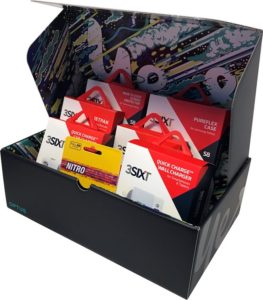 If you're considering or have recently bought Samsung's new Galaxy S8 smartphone, a good option to keep it protected and powered up is the new 3SixT essentials pack for the Galaxy S8 and S8 Plus phones.
This accessories pack has wall and car chargers, a high output charge and sync cable, impact resistant case, anti-scratch and smudge screen protector, a powerbank and even a 64GB micro memory card for extra storage.
Read below to see what's inside each pack, then keep scrolling down to enter to win one of these essentials packs for the Galaxy S8 Smartphone.
3SIXT Hot Box Pack for Samsung Galaxy S8 and S8 Plus – RRP $240 AUD from Optus franchise stores
3SIXT Quick Charge™ Wall Charger and

3SIXT Quick Charge™ Car Charger

75% faster charging | Class A 5/9/12 V

 

64 GB Nitro UHS-I microSDHC/XC Flash Memory Card

Maximises the UHS-I technology for outstanding NITRO performance, including 85MB/s (566X) minimum guaranteed read transfer speed. It also can rapidly acquires, plays back and transfers media data, include extended durations of 1080p full-HD and 3D videos.

 
3SIXT Charge & Sync Cable

Connect your USB-C smartphone or tablet to a device or charger with a USB-A port for syncing and high output charging (up to 3A).

 
33SIXT PureFlex Case

Offering everyday protection in a slim, lightweight design, the 3SIXT PureFlex Case uses soft TPU edges and a transparent polycarbonate back. The impact-resistant material guards against damage

 
3SIXT Edge to Edge Screen Protector

The 3SIXT Edge to Edge Screen Protector offers protection to your Samsung Galaxy device with curved edges that form perfectly to the contour of the screen. It offers full screen protection with superb optical clarity and touch sensitivity.

 
3SIXT JetPak 4400mAh

Need a quick top-up or in desperate need of rescue from a dead smartphone battery? The slim profile and rubberised 3SIXT JetPak 4400mAh is your go-to portable power solution when your juice is about to run out.

.

 
For more information on 3SIXT products, head to
www.3sixtgear.com and the
3SIXT Facebook page. Join the 3SIXT conversation via #3SIXTGear.