Unlimited broadband data…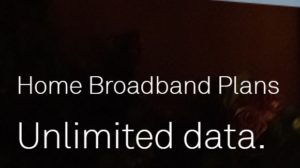 If you live in a data hungry household with multiple entertainment streams and connected devices those 3 words should grab your attention.
The good news is that more internet service providers now offer Unlimited data plans, and the latest is Telstra  offering new and existing customers new unlimited data plans starting at 99 dollars a month.   
Now, depending on where you live the speeds you can access and expect will vary however if you're already a heavy broadband data user, moving to an unlimited plan can prevent any surprises in your monthly internet bill.
I certainly suggest doing your homework before signing onto any provider. Get more info on the Telstra offering on the Telstra website.