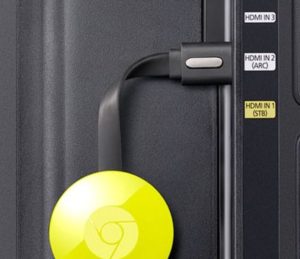 When it comes to finding something to watch we're spoilt by choice thanks to services like Netflix, Stan, Foxtel and Free to Air TV …but how do you get them all without cluttering your living room with multiple set top boxes?
If you have a Sony, LG or Samsung smart TV made in past few years it's really not a problem as you'll find you can access these all from within the TV (that's why they're called Smart TVs).
For older TVs, an easy solution is to get yourself a Chomecast device.  Costing less than 100 dollars you'll just need a decent internet connection to use streaming video service like those mentioned above…and that includes Free-to-air commercial TV which can stream though the FreeView App – so you won't even need an aerial connection.
Chromecast starts at just under $60 or you can get Chromecast Ultra for just under $100.