Tablet computers are capable of doing most of the same tasks that everyday desktop or notebook computers can do, but there's one in particular that be a bit tricky to work out. Printing.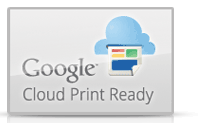 It sounds simple right? But until recently getting a document or image from a tablet device was fiddly to say the least, but arm yourself with a cloud ready printer and you're a step closer.
For iPad users, a feature called AirPrint will allow you to print to many of the latest printers and if you use an android based Tablet, then Google cloud print comes to the rescue.
The latest printers from Brother also now feature a 'Web Connect' feature that enables users to connect to online storage services like Picasa and Flickr for direct printing. Users can also scan and share photos or documents directly on Facebook, Dropbox and Evernote.   Additionally users can print documents or photos with a mobile device via the Brother iPrint&Scan application.