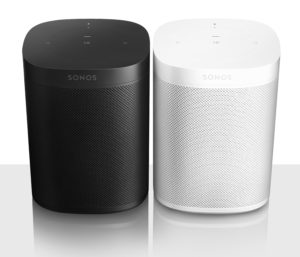 The latest Smart Speaker goes on Sale in Australia today (no it's not Apple's Homepod) ..it's the Sonos One.
Right out of the box the main point of difference with the Sonos One is the quality of the speaker.  It's larger than the Google offering and delivers an audibly pleasing fullness of sound when listening to your favourite music…delivered from connected services  like TuneIn, Google Music or Apple music to name a few.  Apple Airplay 2 will also be coming to the Sonos One in 2018.
If you like the idea of having music throughout your home you can place a few Sonos One smart speakers around the house, or pair two of them to enjoy music in stereo or to complete a home theatre setup for surround sound.
Now the standout feature of the Sonos One is what it will soon be capable of.  It's built to support multiple voice services such as Amazon Alexa & Google Assistant.   It doesn't do this out of the box, but instead it's promised to come in a future free update for the device.     Until then you can certainly use the Sonos App to control what comes out of this powerful little smart speaker.
The Sonos One costs 299 dollars (AUD) from sonos.com/en-au/shop/one