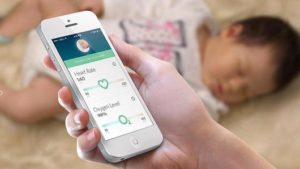 Here's a new piece of wearable technology that new parents will love.  It's a smart sock for babies.
When worn on a baby's foot, the Owlet Smart Sock can track their heart rate and oxygen levels and send this data in real time to an app on the parent's smartphone.
The sock contains a single sensor with a battery life of around 18 hours…and if any problems arise, a notification is sent to the parents.
As any new parent can appreciate, knowing that a new baby is ok while sleeping gives real peace of mind.  Check out the Owlet smart sock at https://owletcare.com.au.
Features:
Smart Sock: Comfortably wraps around your baby's foot to track heart rate and oxygen levels using clinically-proven pulse oximetry.
Base Station: Glows green to let you know everything is okay but will notify with lights and sounds if something appears to be wrong.
App: Receive notifications and stream real-time heart rate and oxygen levels on your phone.
· Wireless Bluetooth range up to 33 meters
· 3 Socks Sizes 0-18 Months
· 45-Day Peace of Mind guarantee
· 1-Year Manufacturer's Warranty