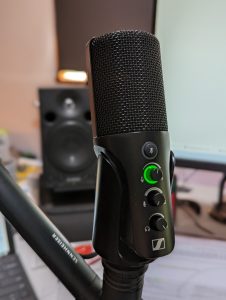 If you're starting up a podcast or getting into live streaming content, having a good microphone is a great place to start.
The latest from Sennheiser is the Profile USB Microphone.

While offering the excellent audio quality you'd expect from this brand, the microphone is also very easy to use, with the key controls built right into the face of the microphone, including headphone volume and a mute button.
The plug-n-play setup with the Profile USB Microphone makes it perfect for beginners and pros alike. Additionally, you might like to consider the Profile Streaming Set that also comes with a boom arm for your desk.
Sennheiser's Profile USB Microphone starts at under $240.