As we move into the colder months, adding air Air Purifiers can help reduce germs, illnesses and unwanted odours.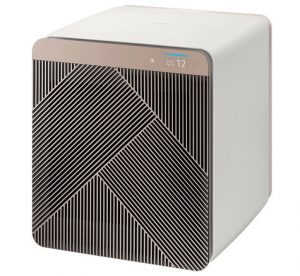 One smart solution from Samsung to help with this is the Bespoke Cube AX53 Air Purifier that uses HEPA filtration, removing 99.97% of 0.3 micron size particles in the air.

What I really like about this particular Air Purifier is that it doesn't look clunky, so the cube shape and stylish design would sit nicely in just about any room, plus it's quiet and doesn't generate a noticeable breeze as you might expect.
You can also monitor your home air quality and control the Bespoke Cube Air Purifier from anywhere with an App on your smartphone.
Additionally, for Pet owners, the purifier has a Pet Mode that removes fine, soft pet hair from the air.  A great feature to ensure you're not breathing Fluffy's fluff.
The AX53 model costs $1299, while the larger AX70 (more of a rectangle that a cube) cost $1699.  See https://www.samsung.com/au/air-care/air-purifier/?unique-bespoke-design