If you wanted to get a TV with a 100 inch screen they start at around 5 thousand dollars, but the latest big screen experience from Samsung not only comes at a fraction of the price, but it's also portable.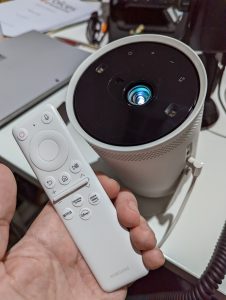 No it's not a TV, it's The Freestyle (projector).  Offering HD picture quality up to 100 inches in size, 360 degree sound and smart TV features, with this short throw projector you can quickly set up a big screen experience just about anywhere.

The Freestyle uses a rotating stand so you can project on walls or the ceiling and when not being used for entertainment the custom lighting and visual effects can be used to transform room ambience.
The Freestyle Projector from Samsung costs 1299 dollars.  Get more into at https://www.samsung.com/au/projectors/the-freestyle/the-freestyle-sp-lsp3blaxxy/