It's not a phone, but with this Dashcam you can definately put yours away while driving.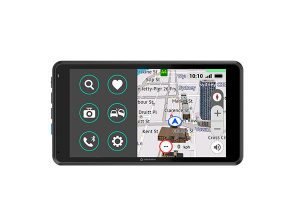 Navman has just launched their most advanced dashcam ever, combining premium dash cam functions with GPS technology in a device running on the android operating system.
With many people using their smartphone for navigation, Navman's new MiCam GPS removes the distraction of a mobile phone while driving by taking care of navigation, road and speed alerts while also recording your journey.
The device itself features a 5inch "pinch and zoom" touchscreen and fits on any windscreen while providing a clear view of the road.  
Get more info https://www.navman.com.au/products/car-gps/micam-gps