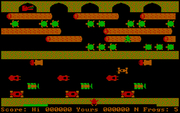 If you've been using computers long enough to remember when they weren't all connected to the internet here's something fun  that will bring back some good memories.
The Internet archive at www.archive.org recently made thousands video games from the 80's and 90's available to play online in your web browser.
Originally designed to run on IBM compatible PCs these MS-DOS based games are a far cry from the video games of today but include well known classics like Donkey Kong, Doom and Street Fighter.
Perhaps you can find a few sneaky minutes during your lunch break to step back in time HERE.