I love a good computer keyboard but generally the are more about function and ergonomics than fun.  My usual go-to keyboard for 'work' is Logitech's Craft keyboard but that not what I'm talking about today.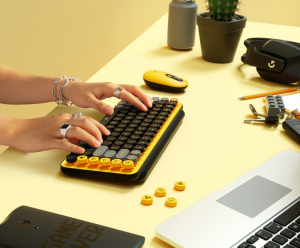 Logitech has also come up with a colourful alternative to 'boring' keyboards with the release of Pop Keys – a keyboard that lets users bring character ,self-expression and colour to their personal workspace.
It comes with eight swappable emoji keycaps in the box – four on the keyboard itself.  These emoji keys can be easily customised to your favourite emoji or another handy shortcut.
Pop Keys comes in 3 different colours, plus it's worth noting that they are mechanical style keyboards that offer a very satisfying 'click' with each key press.
You can also get a cute and compact  POP Mouse to match.

The Pop Keys will set you back just under 130 dollars and the POP Mouse under 50 dollars.