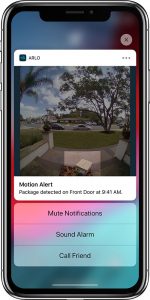 In a time when you may not want to come face to face with whoever happens to knock on the door, a smart door bell could be handy.
Arlo's new Video Doorbell offers more than just a real time video and audio connection outside your home, it also has some great AI driven features to notify you of specific events.
You can get personalised alerts for when packages, people, vehicles, or animals are detected, all controlled through the Arlo app on your phone.
The Arlo Video door bells costs 289 dollars from popular electronics retailers. You'll find more info at arlo.com/au/products/arlo-video-doorbell/default.aspx