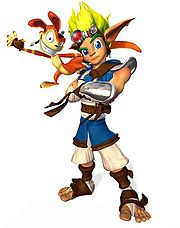 If you ever owned a Playstation 2 video game system…but have since moved on, here's some great news.
Jack and Daxter….the classic PS2 game is getting a high definition upgrade and coming to playstation 4 later this year.  
Other games in the popular series, Jak II, Jak 3 and Jak X: Combat racing are also set for a Playstation 4 release this year.   

Now you've yet to experience any of these titles…Jak and Daxter really set the benchmark for the PS2 games at the time so they will be an experience worth re-living.  
Watch the trailer below and get the full story on the Playstation Blog.