Talk about a show stopper.   During Sony's press event at CES in Las Vegas this week they rolled a car out on stage.  Not someone else's car, but a car they designed which also happened to be packed with Sony technology.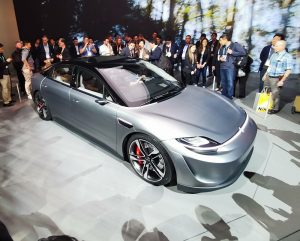 This car is the result of a new initiative by Sony, called VISION S and has been loaded up with Sony imaging and sensing technologies, as well as on-board software regulated using Sony's AI, telecommunication and
cloud technologies  (A total of 33 sensors on board).
Along with the ability to detect and recognise people and objects inside and outside the car, and provide advanced driving support, inside the Vision S prototype you'll also experience  360 Reality Audio with speakers built in to each seat.
So is Sony actually looking to take this prototype into production?  Well the Sony representative I spoke to certainly didn't deny it…but also could not confirm it.
I suspect that this Vision-S vehicle is simply a great vehicle to showcase Sony innovation.  At least for now.
Tech Daily is at CES in Las Vegas thanks to support from Intel, Sony and Swann.