This week I've been testing out the new Intel NUC 11 Mini PC.
NUC PCs are ideal for home and business uses where you need the performance of a desktop PC, but don't have the space for a traditional desktop….but need more than a notebook can deliver (like using a larger screen).

It's a powerful computer box that fits in your hand….and can be mounted on the back of a monitor.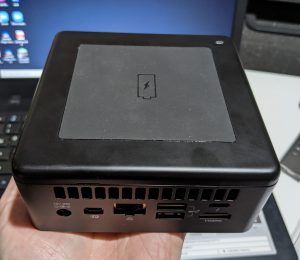 The NUC 11 is the latest, packed with an 11th generation intel core processor along with Intel® Iris® Xe integrated graphics, which packs plenty of power…even for games.

The NUC11 PC model I tested also had a wireless phone charging pad on top (15w fast charging for supported devices).
Now these NUC systems are commonly sold in kit form requiring you to add your own RAM, Hard drive and operating system, then connect to the monitor, keyboard and mouse of your choice, however they can also be bought as a complete system ready to go from stores like Mwave.

To get more general and technical information on Intel's NUC 11 PC visit the Intel website HERE.