A great way to turn any wall into an home cinema is with a projector.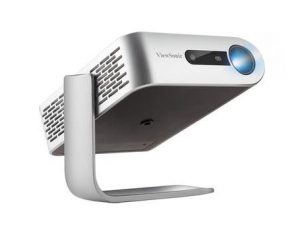 One of the latest on the market that's ideal for this is ViewSonic's M1+ G2 LED Projector.
Featuring an award winning design this is a truly portable projector, weighing just 750 grams, with up to 6-hours of built-in battery life.
The 360 degree stand means you could even project your entertainment on the ceiling and the short throw ratio means you can project a 100″ image from only 2.6 metres away – so you don't need a large space.
For my review I set up the projector on a small table in the recording studio, plugged a Google Chromecast into the HDMI port and we enjoyed a movie from Amazon Video.   Now it's worth noting that a Netflix App is built into the device which is much neater than plugging in other sources.
I'd like to highlight how impressed I was with the sound quality of the Harmon Kardon stereo speakers that are built into the unit.  I've reviewed other portable projectors where I was forced to plug in external speakers or had to use headphones to really enjoy a movie, however this wasn't the case with this Viewsonic model.
Viewsonic's M1+G2 LED projector boasts around 6 hours of battery life too, so you really can have that 'pop up' cinema experience almost anywhere.  It's priced at around 550-570 dollars.