Until recently, like many I wore a fitness band.   I'm no gym junkie and you wont' find me out for a run every morning but keeping informed of how active (or inactive) I was through the day was somewhat motivating and useful.
Specifically, for the past 12 months I've been wearing a Fitbit Alta.  It looks more like a watch and has a few more features than a basic fitness band, but still a step (or two)down from what I'd consider a Smart Watch.
So for the past month I've been reviewing Huawei's Watch GT 2 – Specifically the 46mm Sports model.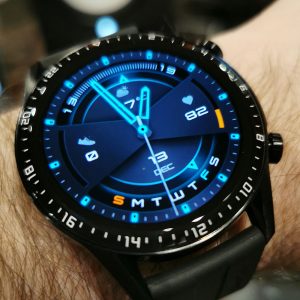 What's great right out of the box?
It's a great looking watch – even before you decide which watch face you want to use, it's has a premium look at is well built.
Battery Life – Two weeks between charges (not every few days as some devices require)
Ok so it still measures all the things you'd expect like heart rate, steps, movement but under the hook the Watch GT 2 is actually monitoring up to 190 data sources and can provide tailored analyses and tracking of 15 sports, ranging from swimming to triathlons.
Now I've already mentioned that those features aren't really for me, but I know they are very important for some so definable worth a mention.
What I did find useful was the advanced sleep and stress tracking (because mental health is just as important as physical health).  The device can also offer up some calming breathing techniques.
Unlike some Smart Watches, the Watch GT 2 doesn't contain an eSim, so you can't use it as a standalone device for making and taking calls without a phone, however it does function very well as a tiny speaker phone so you can quickly take a call on the device without reaching for you phone.  I actually used this feature.
Notifications you receive on the Watch GT 2 can be easily customised, so I just opted to see calls and text messages however there are plenty of options to choose from.   I did notice that once pair to my smartphone (Which happens to be a Huawei P30 Pro) the connection was flawless and worked at a surprisingly long range.   On one occasion my phone was at the other end of my house and I was still getting text notifications on the watch.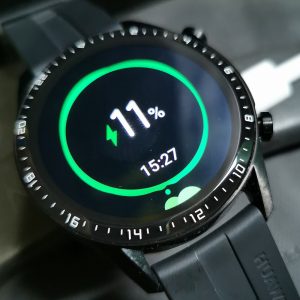 Finally I can't talk up the battery life enough.  They say you'll get around 2 weeks and indeed it was 2 weeks before I was prompted to charge the Watch GT 2.
Huawei's Watch GT2 46mm Sport edition retails for just under $400.  Get more info at https://consumer.huawei.com/au/wearables/watch-gt2/