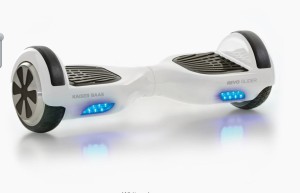 It's no hoverboard, but the new Revo Glider self balancing two wheeled scooter from Kaiser Baas is the next best thing.   

If you've seen those electric segway scooters you could think of the Revo Glider as just being a smaller version of the same thing.
You simply step onto it and use a combination of your shifting body weight and small foot movements to start moving around.   Ok so it takes a few minutes to get the hang of exactly how that feels but you're a pro in no time!
Over the past few weeks I've had some great fun to riding around the Radio Station (I guess it was ok with HR) and around the house.    It's a bit of a grey area when it comes to riding it in public and best check what local authorities say about riding it on the footbath…and the road is definitely a no go zone.
A Revo Glider will set you back just under $800 and is available for Pre-order from JB Hi-Fi and Harvey Norman.  Get more information at http://kaiserbaas.com/rideables/revo-glider/