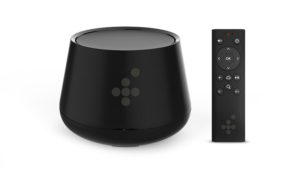 Earlier this year Foxtel launched Foxtel Now to better compete with other streaming TV services….and now you can get the Foxtel Now Box.
Ok so it's more barrel shaped than box, but the idea is that you can quickly get access to the Foxtel Now streaming service by connecting the device to your TV…and it even has it's own remote control.
You can also use the Foxtel Now box to watch free to air TV, Catchup TV, YouTube and Stan…but at this stage not Netflix.
This could be a deal-breakfor for some who would prefer to get all their video services without having to hook up multiple boxes to their TV (Google Chromecast solves this).
You'll find more info on Foxtel Now Box at https://www.foxtel.com.au/now/