Ford's Ranger series vehicles are built for work, but these popular 4x4s are also packed with much of the technology that you'd perhaps only expect to find in the family car.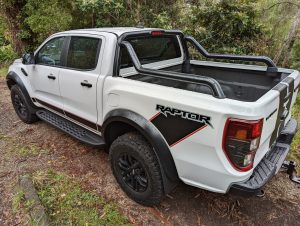 At the top end of the range is the Ranger Raptor X.  The vehicle you may not need but will want to drive anyway (That was certainly the case for me).
This Ford performance truck is built for off-road, but you'll still find driver assist features like lane guidance (essential for when you are driving a wider vehicle), driver impairment monitor, traffic sign recognition, parking sensors, trailer stability control and remote start…just to name a few.  The only driver assist feature missing from this particular ranger (that's found in other models) is adaptive cruise control.

The Ranger Raptor X is also built for comfort with contoured sport seats which are also heated by the way – possibly the last feature I expected to find in this truck but turned out to be a welcome find.

So am I a bit late to the party taking the 2021 Ford Ranger Raptor for a test drive? Yes and no…but mostly no.
With Ford releasing the Next-Gen ranger vehicles coming next month (that they say demonstrate significant leaps forward in technology) I now have a clear benchmark set to compare the step-up to the 2022 model.