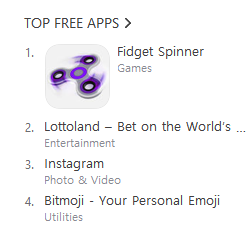 Fidget Spinners. A month or two ago you may have never heard of them…but now there seems to be one in the hands of every second child (with a few spotted around the office).
Along with the imported knockoffs of this therapeutic toy, the Fidget Spinner has also entered the digital domain…quickly becoming one of the most popular smartphone Apps.
A quick look at the Google Play store and iTunes Appstore reveals dozens of Spinner like apps and while many are free, they don't quite give the same satisfaction as real fidget.