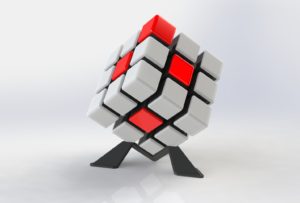 The Rubik's Cube has been baffling brains since the early 80's and can still be found in stores…however a new electronic version of this humble 3-D puzzle has just surfaced.
It's called Rubik's Spark and while it looks like the original cube, it's not covered in colourful stickers and you don't physically twist parts of it, instead you'll simply tilt and turn the cube which has built-in sensors that detect movement.
The Rubik's spark has 6 built in games for memory, speed, dexterity and logic and can be played alone or with friends.  Get more info at http://www.crownandandrews.com/product/rubiks-spark/ and look for it at leading Toy Stores.