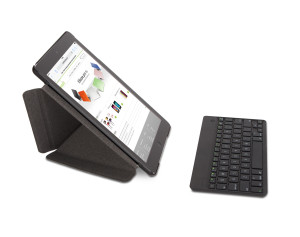 If you find yourself doing a lot of typing on your iPad using the virtual keyboard then the accessory for you is a real keyboard.  Yes you probably bought the ipad instead of a notebook computer because of it's size, weight and ease of use, but adding a keyboard to it won't necessarily take any of that away.
For the iPad Air the VersaKeyboard is a bluetooth keyboard that's cleverly disguised as a case for the ipad, featuring origami style folding so it can be used as a stand with the the keyboard sliding neatly away when not in use.
The VersaKeyboard will add 380grams of weight to your ipad air and is nearly 80 percent the size of a full size keyboard.  You'll find more information HERE.