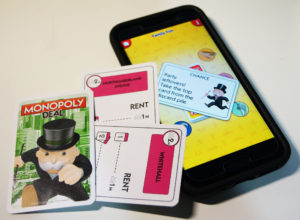 Traditional board games like Monopoly and Trivial pursuit have recently been given a high-tech upgrade.
A new rage of interactive card games from Crown & Andrews based on these classics and more could inspire fresh interest from all ages…because they can be used in conjunction with an App on your smartphone or tablet device.
For example the Monopoly Deal card game is a little more fast paced than the original board game but you can add another dimension using a free app to dish out chance cards.
Also in this new range you'll find games like Trivial Pursuit, The Game of Life, Cleudo Suspect, Boggle Slam and more.
Get more info on these card games with a tech twist HERE.