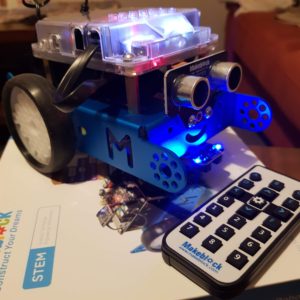 The idea of building and programming your own robot may seem like something that's out of reach, but it's already happening schools…and you can also do it at home.

This week I've been testing out the M-Bot, an entry level robot kit from Makeblock suitable for ages 8 and up.  Actually i built and tested this kit out with my 10 year old.
Once assembled you can have fun with basic modes like watching the robot avoid obstacles or follow lines using it's sensors…or you can start to learn basic programming skills using a graphical interface to get the most out of your new little robot.
The M-bot costs around 140-200 dollars (shop around).  Here are some of the recommended retailers.
JB Education
Jaycar
Harvey Norman
Little Bird Electronics
CD Soft