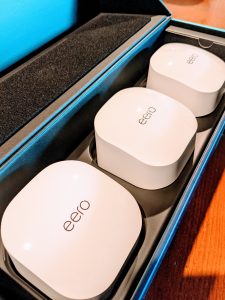 There's nothing like having fast, reliable Wi-Fi at home, but if you're looking to upgrade you'll find plenty of options available so how do you choose?
Amazon has just launched the Eero 6 mesh home Wi-Fi system which not only promises to be reliable but more importantly very easy to set up.Over the past week I've been testing the Eero 6 3-pack (1 router with 2 extenders) and have been impressed with this $499 Wi-Fi setup right out of the box.  Here's why;

* Easy to set up with the Eero App
* Wi-Fi coverage / speeds are great
* Nice aesthetics / small footprint devices
* Well priced for a complete home coverage solution

Frankly, setting up home Wi-Fi can be a bit scary and technical so it's good to see just how easy it can be when it's done right.  That being said, Eero does offer good technical support if it's needed –  Nick Weaver from Eero explains in the audio clip below.
You'll find more information about the Eero 6 home wifi system from Amazon at tech daily.com.au.