Happy Anniversary  to Amazon Alexa this week!
It's been 3 years since Alexa arrived in Australia and where would be have been without our smart speakers over the past 12 months with COVID-19 lockdowns!
We all spent a lot more time at home during that time so it's no surprise to learn that smart speakers increased by 40% during that time and Amazon has seen a steady rise in Aussies embracing all Alexa has to offer. From downloading the Amazon Alexa app on phones, to buying Echo Smart speakers, Aussies have been using Alexa for everything from listening to music, tuning into their favourite radio station, to managing their daily routines.
If you already have an Alexa smart speaker, you probably talk to it a lot.  But here are some more amusing phrases you may like to try.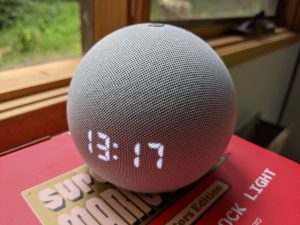 "Alexa, do a fart"
"Alexa, compliment me"
"Alexa, give me a lucky dip"
"Alexa, make everyone leave"
"Alexa, that's so fetch"
"Alexa, do a party trick"
"Alexa, talk like a Yoda / superhero / reality star / teenager"
Now if you're yet to experience Alexa or don't have the latest Alexa Smartspeakers,  all Aussies can nab with 15% off the amazon.com.au price of any Echo device until 11:59pm on 12th Feb with code ALEXA15.