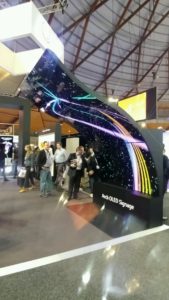 Ok, so the headline isn't quite right….
In 2013 OLED TV was launched into the Australian Market by LG – as was described by many as the greatest technical achievement in TV since Colour TV!  Further enhancements and improvements to OLED screens have been made since then, including many that that will make a greater impact outside of our homes.
I caught up with Russ Prendergast from LG Australia to talk about some of the state-art-of technology that was on show at the Integrate Expo in Sydney last month.  This included a new Duel-View tiling OLED screens for signage.   Listen below for more on this exciting development.
You'll find more details on OLED TV for home at http://www.lg.com/au/oled-tvs