Are you guilty of being a smartphone zombie…or do you know someone who is?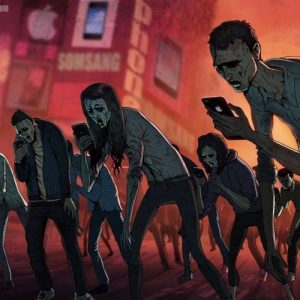 Smartphone zombies are easy to spot.  They're the ones walking down the street, even crossing the road with their eyes fixed on their phone, seemingly unaware of their surroundings.
It's a dangerous habit…you can see some good examples of why if you search "distracted walking" on Youtube.

To combat this growing problem a south Korean industrial designer has developed a robotic eyeball that users can strap to their heads and when they come within one to two metres of an obstacle, the device beeps to warn of the impending danger.
The creator says his invention is meant as a warning, not a real solution for smartphone addicts who won't pay attention to where they are going.
You can read more about HERE.