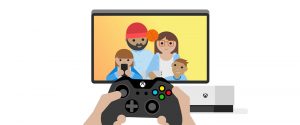 Xbox is putting players(and/or their parents) in greater control with new content filtering tools launched this week.
This means that messages received on Xbox (both from friends and non-friends) can set to pass though various levels of filtering – potentially stamping out offensive language, hate speech or other inappropriate content depending on the sensitivity of the user.
Parents will also have the ability to manage the settings for their child's account with this update with the default set to the highest level of filtering.
Last week I caught up with Dave McCarthy, Corporate Vice President, Xbox Operations to talk about health and safety when it comes to video games.  Listen below.
You can learn more about family settings on Xbox HERE.