Most Smartphones don't have one so why would I use a stylus with a smartphone?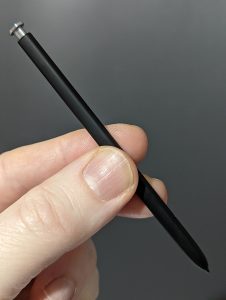 One of the most unique and certainly standout features of Samsung's Galaxy S22 Ultra is the S Pen…and once you start exploring its uses, 'stylus' isn't the word that best describes it…more like 'magic wand'.
For starters it turns the S22 Ultra into an instant notepad, even if the device is locked…and the low latency of the S-Pen means that it feels quite natural.
So, yes, note taking is a key use of the S-Pen and you can make notes on anything on the screen… or even inside your calendar.
It can also be used to remotely control the camera functions….and to get creative from augmented reality doodles to more professional works of art with the included Penup App.

To see what else you can do with the S-Pen on the Galaxy S22 Ultra visit the Samsung website.