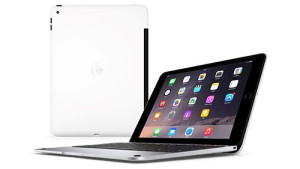 Recently I've been looking at some of the latest 2-in-1 devices on the market…they're a tablet one minute and a notebook the next.   Well the truth is that most tablet devices can be converted into a notebook type device…you just need to right accessories.

For iPad owners there's the ClamCase Pro keyboard case.   It's an aluminium bluetooth keyboard in a clamshell style case that at a quick glance makes you iPad look more like a MacBook.

Now for anyone who plans needs to type for extended periods on a tablet device  I definitely recommend a keyboard add on…but the ClamCase Pro goes a step further with a bit of style.  
Pricing and Availability
Product: ClamCase Pro iPad Keyboard Case
Availability: Available now in Australia and New Zealand

Product
RRP (AUD)
RRP (NZD)
Colour Options

ClamCase

Pro for iPad Air 2
199.99
229.99
Smoke/Black, Gold/White, Silver/White

ClamCase

Pro for iPad Air
199.99
229.99
Smoke/Black, Silver/White

ClamCase

Pro for iPad mini 1/2/3
189.99
189.99
Smoke/Black, Silver/White

ClamCase

Pro for iPad 2/3/4
199.99
199.99
Silver/White
 Australian Retailers: Beezer, MacintoshAddict