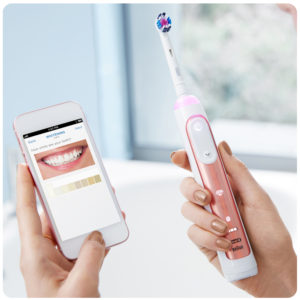 Rose Gold.  It's become quite a popular colour with the latest technology (From Smartphones to Watches and Notebook computers) and now you'll find the latest in Toothbrush technology also in this fashionable colour.   However it's not all about looks.
Oral-B's Genius intelligent brushing system, when connected via Bluetooth to an App on your smartphone, is able to guide users on a dental care journey of their choosing.
In short this means the Genius toothbrush can make sure you reach all of your teeth for a better clean.   
Apart from the new Rose Gold colour, the toothbrush also has has 12 coloured LED lights that can be programmed.
Find out more about about the Oral B Genius on the Oral-B website.
RRP $349